Ghost Hunts USA, a popular company that organized paranormal investigations and ghost hunts in the United States, recently made headlines for all the wrong reasons. The company announced that it is closing its doors and not refunding its customers' money. Instead, they are asking individuals to contact their bank to do a chargeback. The move has sparked outrage among customers who feel cheated and betrayed.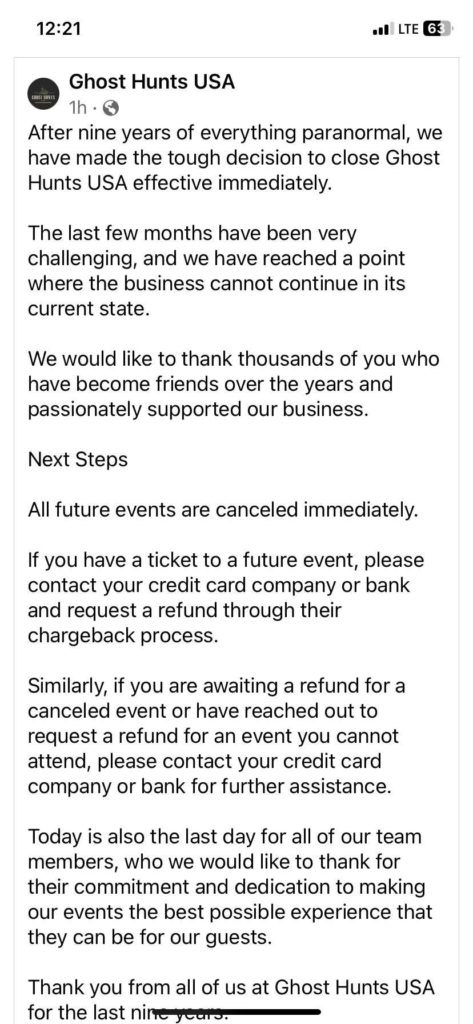 But this is not the first time that Ghost Hunts USA has come under scrutiny. The company has been the target of online attacks and legal action by locations and venues over non-payment for several years. In fact, one of the company's members, Tyler, is currently serving time in a UK prison for theft of over $900,000.
Ghost Hunts USA was founded in 2015 and quickly gained popularity for its unique and thrilling ghost hunting experiences. The company offered overnight stays in reportedly haunted locations across the country, giving customers the opportunity to investigate paranormal activity with the help of experienced paranormal investigators.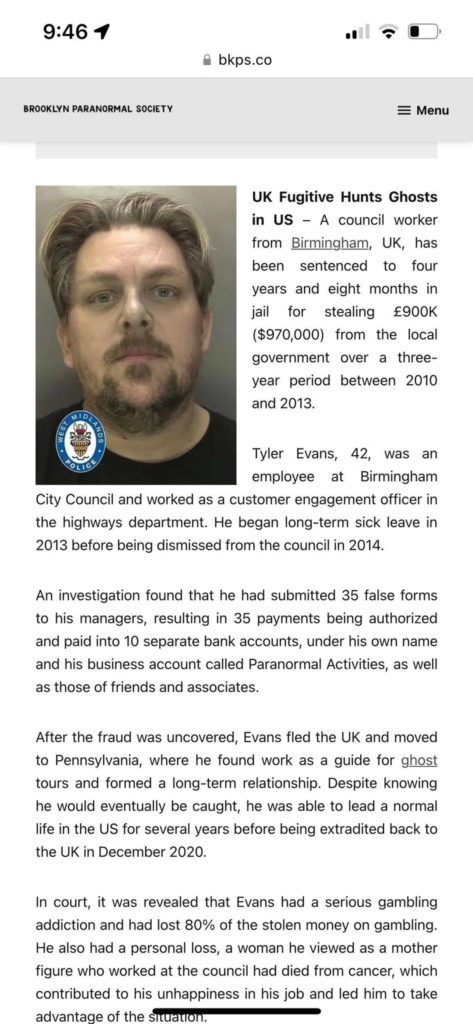 However, over the years, the company has faced multiple allegations of non-payment to locations and venues where they organized their events. Many locations have accused the company of failing to pay their bills, leaving them with no choice but to take legal action. The company's reputation took a major hit, and it struggled to regain the trust of its customers and the locations where they operated.
Despite these challenges, Ghost Hunts USA continued to operate and attract customers, until now. The company's sudden announcement that it is closing its doors and not refunding customers' money has left many feeling angry and frustrated. Some customers have reported that they had upcoming events booked with the company and are now left with no way to get their money back.
The situation is made even worse by the fact that one of the company's members, Tyler, is currently in prison in the UK for theft. Tyler was one of the key members of the company, and his imprisonment has undoubtedly had an impact on the company's operations.
It remains to be seen what will happen next with Ghost Hunts USA. However, it is clear that the company's reputation has been irreparably damaged. The company's actions have left many feeling betrayed and cheated, and it is unlikely that they will be able to regain the trust of their customers or the locations where they operated.
The fact that Ghost Hunts USA is asking customers to file a chargeback is clear indication that the company no longer has any money, and is actually saying in a polite way "we are not refunding anyone".
We highly suggest anyone who has money invested with Ghost Hunts USA to contact their States Attorney to file a complaint before the 90 days expire with the credit card companies to honor any chargeback disputes.