Mitch Winehouse, father of late singer Amy Winehouse has revealed that the ghost of his daughter comes to visit him at his home in Kent.
The father opened up in a recent interview admitting he believes his daughter is still very much alive.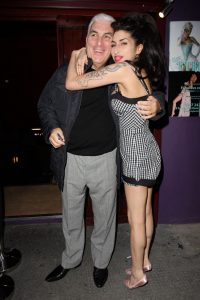 "After three years I was thinking maybe that one day she will come back in some shape or form," he confessed, "and she does come back — not physically, but spiritually — all the time. I could not begin to tell you how much she is around."
"Her spirit comes and sits on the end of my bed. She just sits there and it looks just like her with her beautiful face and she looks at me," he continued. "I say to her, 'Are you all right?' because I get ­nervous with her being there. But it is comforting in a way to know she is here and around me."
Mitch also revealed that other strange happenings occur since his daughter's passing. He said that just a week after she passed away, his daughter once came to visit him in a form of a blackbird, similar to the one she had tattooed on her arm.
The bird flew into a glass window at his sister's home at night, when birds are usually nesting.
"We went and picked it up and put it up on a perch," he said.
"It happened at night, when birds don't fly, but it came back and sat on my foot. And then we put it back again and it came and sat in the middle of us and sang."
In wake of his daughter's passing, Mitch has founded the Amy Winehouse Foundation which supports young people struggling with alcohol and drug abuse.
Amy died on July 23, 2011 from alcohol poisoning at just 27-years of age.
From Original Source
Tommy Lundell, Paranormal Journalist, will be checking in with GhostHuntersFans.com readers each week as the season progresses.